What happens if you marry a beautiful woman and she suddenly becomes a star? Very simple – Michael used to think – you find yourself alone before you even realize it.
Yes, he had earned a rich divorce. But his brand-new house, surrounded by woods and wildlife in the middle of a forest, was so silent and cold. Thirty-one years old, a former executive at a large corporation, Michael had relegated himself into a lonely life…
Then one day he rescued a girl in the forest, where she was lying unconscious and hurt. He carried her on his shoulders for almost three hours, until they reached home.
Now Jessica – this was her name – was in front of him on the couch.
Michael was literally enchanted by the young woman. Red haired and blessed with a perfect skin, Jessica was not as stunning as his ex-wife Nicole, but she had a sort of special charm he couldn't resist to.
After a couple of days, she already behaved like a spoiled brat in his own house. The pretense was her hurt ankle, but he couldn't help but grant every wish of hers anyway. He was like hypnotized. Soon she explicitly started treating him like a slave: "Now go get a basin with hot water, and wash my feet! You're the clumsiest rescuer I've ever seen."
Ten minutes later, Michael was servicing her orally on his knees, while Jessica savagely pulled his hair and scratched his shoulders with her long nails. "Yes, this way… suck my clit with your lips… now push that tongue into me… yesss!" When Michael's skin began to bleed under her nails, she could no longer stop herself: she bit his neck deeply, right as she reached a satisfying orgasm.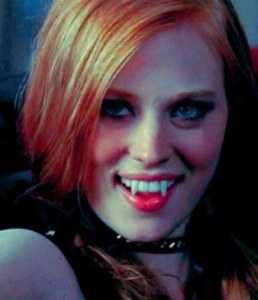 Jessica was hungry and really enjoyed the warm blood of the terrified guy. She barely managed to stop before the point where she would have turned him into a vampire as well. She had better plans for him: Michael was handsome and strong. Jessica had been observing him for weeks, before taking the decision. Then making him carry her for miles on his shoulders, while she pretended to be unconscious, had been his final exam.
Jessica let him fall on the floor and looked deeply into his eyes. He was weak and in pain right now, after losing so much blood, yet he stared at her more adoringly than ever. She put a naked foot on his throat, pushed a little to get his attention and said: "You're going to be the best human horse I've ever ridden, honey!"
They left twelve hours later. Jessica rode Michael on his shoulders for almost five hours through some beaten tracks, until they reached a huge castle surrounded by nothing but woods and mountains. Michael wasn't harnessed in any way: he just had to use his hands as improvised stirrups for his young rider's naked feet. "Don't worry, boy, I've got everything you'll need at the castle."
The day after, Jessica had already kept her promise. Michael was on his hands and knees, provided with kneepads and padded gloves. The girl put a heavy american saddle on his strong back and filled his mouth with a tight bit. She wore a simple set of blue jeans and white top, and cowgirl boots with razor-sharp spurs. In her pretty hand, a thin dressage whip threatened Michael's hips.
She gracefully swung across his back and took a comfortable sit, putting her boots into the stirrups.
Michael could easily handle her 120 lbs. He shuddered at the pleasure and excitement of this explicit situation: he felt completely lost for this girl, he just wanted to make her happy, whatever it took! Of course Jessica was excited as well. It had been months since the last time she had ridden a human horse: her former ponyboy hadn't performed well enough, so she had had to dispose of him.
The girl harshly pulled the bridles to get her slave's full attention, then made him turn around. Once he reached the desired direction, she repeatedly dug the spurs into his flesh. His muscles' immediate response made her more hopeful than ever about the upcoming race, while she enjoyed a fast gallop around the track.
Every autumn, female vampires from all over the world compete in the most merciless desert race ever conceived. Human ponies are their only means of transportation and source of nourishment for seven endless days.
To be continued...